OUR EXPERT QUALITY…
YOUR PEACE OF MIND.
As a DC-metro area leader in irrigation, lighting, and draining solutions for the last 30 years, we specialize in giving you the outdoor space of your dreams. We pride ourselves in providing not only the very best customer service, but also the highest level of expertise in installation and service.

No matter how big or small the project, Creative Irrigation & Lighting has the proficiency, artistry, and commitment to delivering expert quality for all of your irrigation, landscape lighting and drainage needs.
Irrigation
Never worry about your lawn watering schedule again! We are experts in when – and how – your irrigation system needs to run. Save time and water with an irrigation system that takes into account sun coverage, topography, and unique plant needs. Our systems are not only efficient — they're smart. Our WiFi-connected, weather-based irrigation controllers ensure maximum flexibility and control. Let us design and install a system that ensure your lawn and landscape receive the right amount of water, where it's needed, without waste.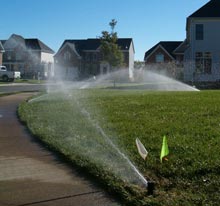 Lighting
The right lighting can dramatically transform any outdoor space. Each property is a blank canvas, waiting to be brought to life. We bring out the best in exterior areas with custom lighting solutions guided by both function and style. You will be amazed at the visual impact lighting can have on your home and landscape – not to mention the added safety it provides! From simple repairs to complete LED upgrades, Creative Irrigation has all of your lighting needs covered.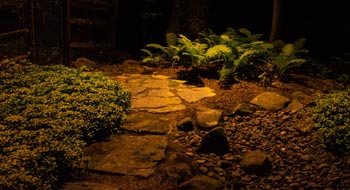 Drainage
Uncontrolled water can be devastating to your home and property. It can damage building foundations, ruin landscaping, and bring an increase of mosquitoes to your property. We bring time-tested, custom solutions to the problems that excess surface and subsurface water can cause. Whether it's a simple downspout system, a French Drain, lawn aeration or a lawn regrade that you need, our trained professionals will assess your drainage system and provide recommendations for the most impactful solutions that work year-round.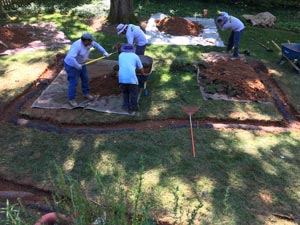 Aeration
Roots need access to air and water in order to grow healthily, and a build up of lawn thatch over time can block those nutrients to prevent healthy lawn growth. If you notice a layer of thatch more than half an inch thick then it may be time to aerate your lawn. We have specialized equipment and years of experience in bringing clogged lawns back to life with simple and non-destructive aeration techniques. From Irrigation to Lighting, Drainage to Aeration, Creative Irrigation is your answer to a healthier, brighter lawn you can be proud of.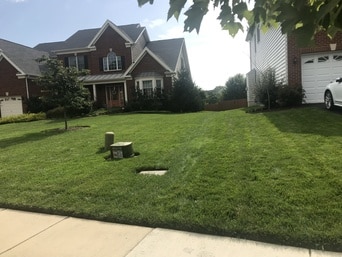 Why Creative Irrigation?
Our results speak for themselves — and our happy customers speak for us! Over 90% of our new customers come from referrals, given to us with confidence from our clients and partners. We've been proud to serve the DC-metro area since 1989 under the same name, same ownership, and with the same commitment to quality. We promise to offer the Creative Irrigation distinction on every project we fulfill. 
Contact Us
What Our Clients Say:
J.B. Mclean, VA
"...what a godsend you all have been! We were at such a loss when our previous company went out of business without warning. Your service and professionalism has been remarkable."
S.S. Oakton, VA
"I was very impressed with you guys from estimate to installation. A minor problem was handled promptly and there has not been a problem since."
Scott Brinitzer Design Associates, Arlington, VA
"Since we began working with you last year, we have been very impressed with your professionalism and attention to detail. Our clients have also appreciated your reasonable installation rates and excellent post-installation followup. Keep up the good work, Mike! we look forward to building great garden projects with your help."
S.R. Oak Hill, VA
" I have already recommended your company to others. Best contractor I have used."
R.B., Oakton, VA
" I was thoroughly impressed from our initial meeting through completion. Brian is a professional:courteous,knowledgeable and dedicated. A real joy to work with! Thanks for a superb job! I would recommend you highly to all my friends and family!"
C.M. Ashburn, VA
"...for me, the best compliment I can give you is that this is the second installation you have done for us. That wouldn't have happened if you guys weren't great!!"